I know, I know, I said I wanted to go back to blogging, but I'm doing the best I can. I love my job so much, and I get so engrossed, that after days of grueling writing and re-writing and re-writing and some frustration on the side, I just want to do something other than writing. But now I'm back, and I have a very bloggable topic! :D :D :D
I used to be this huge fan of Survivor. And then a bit of Amazing Race. I liked Survivor more because of the native, back-to-basics element and the politicking among the members based on a set of rules. The casting director for that reality TV show is great! Huge fan of Ethan Zohn from Season 3 (I even stalked him when he was in the Philippines), who's battling cancer lately. I only liked Amazing Race because of the locations and the excitement, but the social dynamic aspect isn't as vibrant as Survivor.
I have always heard of the Apprentice, mostly because of how ruthless Donald Trump was in the original show. Of course, I wanted to be as glamorous as Ivanka, but that really didn't become my track. I never watched the series. Until now.
I had to watch the Apprentice because my friend, Jonats a.k.a. Nate a.k.a. "Jonathan" (siyempre, young totoo pa niyang pangalan young naka-quotes) was there. I met Jonathan in my freshman year while I was joining the UP Debate Society, to which he was already a member. He was also an economics major, and he encouraged me to join the Institute of Development and Econometric Analysis (IDEA) when I became an economics major. Actually, not so much on the actual encouragement, but Jonats showed the incentives. It seemed like a good way to get friends and earn a little bit of allowance on the side.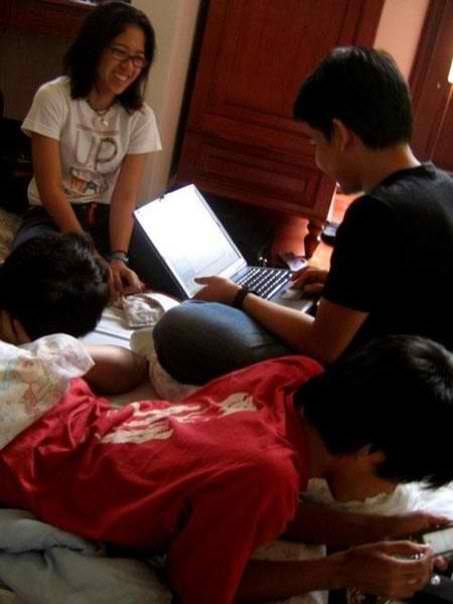 #throwbackthursday with Jonats and my "no porn" laptop (to his disappointment), in the "morning after" of the UPDS Christmas Party 2005 (this was candid by the way as you can see sa pose ni Jojo, and yes, that's my natural bungisngis)
Sometime in 2007, I had a marketing internship at a leading local network, and Jonats was in management, so they handled the internship. While I realised that maybe marketing won't be my thing, it was the complete opposite for Jonats. Jonats originally considered law school, and now he chose not to do that anymore, I ended up doing it. So boys and girls, nothing is set in stone. You can be whoever you want to be.
So now, due to his marketing prowess and overall go-getter attitude, he is now one of twelve contestants in the Asian version of the Apprentice.
The show is only at its second episode, but Jonathan is probably the cast member with the most screen time. It's a toss between him and Andrea, who's probably my favourite after Jonathan. Well, I don't know if it's a personal bias for lawyers since she's a lawyer, but I find her adorable.
I never expected this, but the show really got me hooked. Not as bad as when I was young, but I actually discovered we had AXN in our cable television because of this. Amazing! HAHAHAHA. On top of that, my brother got engrossed na rin sa show. He was wondering why in both episodes, both the teams weren't able to execute the tasks given to them. I told him, it's difficult because they're still getting to know each other, they haven't built team dynamics yet. Or maybe that's just my excuse to cover for Jonats. =P
In the office, the only person who watches it is my fellow Gilbert girl (inside joke), Mea. She is particularly fond of Alex, a white guy who speaks Mandarin. Mea is of pure Chinese lineage but her command on the language is bordering on foreign, just enough to assess that Alex was natural at it. To think that Alex was, by nationality, French.
I think our loud musings in the morning got the other EAs in our office on board. I was able to convince Eva enough that she checked the website, and Stefanie said she will check it on AXN if she can.
At the end of the day (one of the favourite phrases of the contestants in the show), it is a reality TV show I like watching, but I probably won't participate in it. I like competition, but I really don't like competing for attention. That's what I realised in the second episode. But based on all the reality TV series I have seen, this is probably the most doable for me. Right now, I just hope Jonats wins! :) :) :)